If Jon and I were still living in Poland, Halloween would have been something of an afterthought, but today, All Souls Day, would have been the real deal.
I've written before about the tradition whereby people go to the local graveyard and quietly clean the headstones and light candles to remember the dead, starting with the family graves, then moving on to graves around, making sure every single one has a candle. At dusk, the place is a fairyland of red and orange light.
It's easy to feel disconnected from the lines of our families. We lead lives that take us far from home, far from what our grandparents and great grandparents would recognize as home. And especially here in New York where the present is felt so strongly that the past seems almost an impossibility, it's a welcome prompt to stop for a moment and reflect and remember.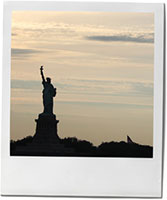 When my grandfather was a boy, the majority of his brothers and sisters set sail from Liverpool to come to America – 8 or 9 of them, I think. We don't know what happened to most of them. One brother settled in Atlanta and ran a coffin business. I sometimes wonder how they must have felt sailing into New York, past the Statue of Liberty. What the city must have looked like then. What it must have looked like then to them.
Jon's ancestors are more traceable and, dare I say it, more illustrious. "My great uncle invented Creamola Foam. It's awesome. It's a kind of drink. It comes in a pot, then you pour it into a glass and top it up with water and it foams. It comes in two flavors, pink and yellow, and it's amazing."
"Your ancestor invented that? You must be very proud."
"I am actually. I am."
Rosemary for remembrance cake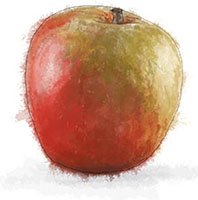 I discovered this cake in Nigella Lawson's book Feast, and I love it for its autumnal flavor of apples and rosemary, as well as for its simple beauty. I've converted it into cups because it's a pretty easy-going cake and it's easier to make it that way. Otherwise, I haven't changed a thing.
You make this cake in two steps. Firstly, an apple sauce flavored with rosemary. It's not hard to do, but if you really want to skip it, you could use 3 – 4 tbsp of apple sauce (though that's not sanctioned by Nigella). Next, you puree the sauce in a blender and add all the rest of the ingredients to form a batter. No creaming required – it's a simple, honest sort of cake both in baking and in eating.
For the apple sauce

1 large eating apple (over half a cup of cubed apple)
1 small sprig rosemary
1 tsp sugar
Juice and zest of half a lemon
1 tsp butter
 
Peel, core and chop the apple
Heat everything in a pan until the apple is soft – 5 mins ish
Pick out the rosemary and blend to a puree
For the cake
2 sticks butter (225g)
2 cups flour (300g)
¾ cup sugar (225g + 1 tbsp)
3 eggs
2 tsp baking powder
1 long sprig of rosemary
 
The apple puree (3 tablespoons -ish)
 
Preheat the oven to 325f (180c)
Measure the sugar and take out 1 tbsp
Put everything in the blender and whiz to a puree
Butter a loaf tin and scrape in the batter
Sprinkle the sugar on top, then lay a rosemary sprig down the length of the cake
Bake for 50 mins until golden
If You Can Make That You Can Make This