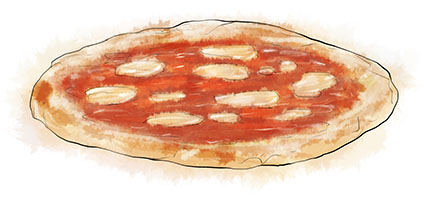 If you live in New York and you like to eat out, you will inevitably spend a lot of time hanging out outside restaurants with a whole bunch of other people who agree with you that an hour, an hour and a half is not too long to wait for a pizza. 
Outside Rubirosa there is a bench, and this bench is one of the best people watching spots in the city. A few weekends ago it was lovely and warm, so we joined the crowd sipping bottles of beer wrapped in paper bags, and listened in to a slice of life.
One girl had brought her puppy, a doe-eyed silky-eared spaniel that charmed all who saw her. "Sure, she's totally cute, but she's already cost me $150 in probiotics." When this woman's table was called we discovered that a couple of her friends had already eaten, and had simply come along to hang out with the puppy outside the restaurant.
One couple appeared to be on the verge of a break up. "I didn't say that. I didn't even imply it. Unless, of course, you think it's representative of our relationship that we've lived together for a year and you only found out how to turn the dishwasher on today."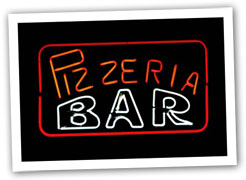 And then we heard this cautionary tale:
"This guy bumped into me on the street, then started yelling that I'd broken his glasses and I should pay for them. Well, it wasn't my fault, so I told him I wouldn't pay for anything, and he literally growled at me, and said "Man, I'm going to kick you in the leg," yeah, it was oddly specific.  So I thought, shit, better run, so I headed into the diner that was right on the corner and waited for him to go away.
I thought, since I'm here, I'll have a sandwich. After about five minutes he went away and I relaxed, but after half an hour he was back out there. And I watched him deliberately walk into another guy and yell at him about how he'd broken his glasses.
The waitress took my plate away and I told her what was going on. She looked totally mad, and opened the door of the diner and yelled; "Tony, what did I tell you? Get the hell outta here with that pathetic scam. Nobody's gonna fall for that shit. You don't even need glasses. You should go back to Conways and beg them to give your box cutter back." It was like I walked into an episode of Law and Order."
"Sorry about the wait" said the hostess as she seated us, an hour and forty minutes after we'd put our names on the list.
"It's not a problem at all," Jon told her, and we both meant it.
Vodka Pizza
I got the idea for pizza with vodka sauce from Rubirosa, but I'm not claiming any inside knowledge or authenticity whatsoever for this recipe – if you want to eat Rubirosa's pizza, you'll have to stand in line next to me. But when I cook an inspired-by version at home, this is how I make it.
For the pizza dough
If you live near a Trader Joes or an amenable pizzeria, buy a ball of pizza dough. Oil a baking tray and dump out the dough onto it. Press it out as much as you can, then leave it alone for a few minutes. Poke it and stretch it out again. Give it another few minutes. The resting helps the dough relax into the stretched out shape. Poke it out again – it should be about the size of the tray now, and very thin – then proceed with the toppings.
Or make your own dough:
3 cups flour (I use 00, though if you want to use something more adventurous, half white half whole wheat perhaps, you may need a little more water)
1 packet of dried yeast
1 tsp sugar
1 cup warm water
1/2 tbsp salt
2 tbsp Olive oil
Extra flour for dusting and extra olive oil for oiling
 
Sprinkle the sugar and yeast into the warm water and let stand until the yeast begins to foam (a couple of minutes)
Combine the flour and salt in a bowl (mixer for preference), then add the 2 tbsp olive oil and the yeast mixture. Using the dough hook, and stopping to scrape down, mix and knead for five minutes (or, by hand, for 10)
Half way through, have a feel of the dough – if it's crumbly add some more water, if it's too sticky, add a bit more flour – it ought to be smooth and plump and soft
Take the dough out of the mixer and give it a quick knead by hand, then put it in an oiled bowl, cover with a tea towel and let rise in a warm place for an hour
Punch the dough down, divide the mixture into two pieces (each piece serves 2 – 3 people, and the spare piece can be kept in a zip lock in the fridge for up to a week)
Oil a baking tray, and put the dough in the middle. Press out to try to cover the tray and thin out. Leave for a few minutes, then press out again. Leave for a few minutes and press out again – it should be thin
For the vodka sauce topping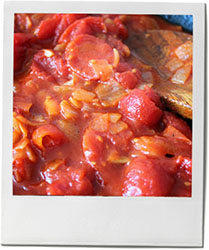 (1 lot of pizza dough on a tray)
1 medium onion
1 can plum tomatoes
1 tbsp cream cheese
1 tbsp vodka
½ ball mozzarella cheese
Salt and pepper
Olive oil
 
Dice the onion, season and fry in a splash of olive oil over a gentle heat until the onions are soft and sweet – about 15 minutes
Add the tomatoes, and chop up so that they make a sauce (or you can use chopped tomatoes). Add the vodka and reduce the heat to a low simmer for five minutes, so that the sauce can reduce and thicken. For a very smooth sauce blend with a stick blender
Preheat the oven to 450f
Stir in the cream cheese and check the seasoning. Let the sauce cool down for about 5 minutes
Top the pizza base with the sauce and tear the cheese over the top
Cook for 8 – 12 mins depending on the thickness of the crust, until the cheese has melted and the base is crisp
If You Can Make That You Can Make This
Pizza toppings are limited only by your imagination and the contents of your kitchen. My current favorites are:
Pesto and fresh tomatoes
Mushrooms roasted with garlic and olive oil, then baked on the pizza, then finished with fresh Parmesan and truffle oil
Roasted butternut squash on top of a pizza spread with ricotta, thyme and lemon zest
Classic tomato pizza
And if you can make Vodka Sauce (which is great on pasta, btw) you can make all these things with just a little tweak
Spaghetti with tomato sauce