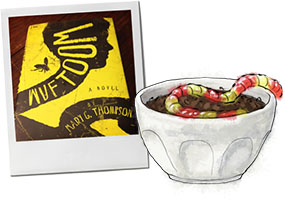 It was my friend Wendy's best friend Mary's YA book launch yesterday, so a crowd gathered at a Soho bookstore to drink wine, listen to her reading extracts from Wuftoom, and celebrate her fabulous achievement.
I'd met Mary a couple of times before, most notably at Thanksgiving, where she pretty much summed up her life view as "if a giant talking bug crawled into the room, I'm one of those people who wouldn't kill it because I'd be interested in what it had to say." So I was kinda prepared for her book, a dark fable about a boy who turns into a particularly grotesque type of giant sewer-dwelling worm called a Wuftoom.
In keeping with the theme of the book, worm-related treats were served at the party – worms in chocolate pudding being the runaway hit. Glass of wine in one hand, jelly worm in the other, Mary looked happily around the room, taking in the moment.
"I started writing this book and finished it within 6 months, because I found my job soul-destroying, and I needed to work out how to leave it," she told us – inspiring stuff for a Sunday afternoon.
And so, in the spirit of achievement, creativity and dreaming big, employing the unlikely metaphor of worms, chocolate mousse worms in dirt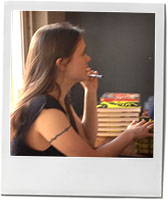 Pot au Chocolate with Oreo Crumb Soil and Worms (makes 6 large shot glass servings)
This recipe contains raw egg, so don't serve it to pregnant / fragile people, and use eggs that you trust. If you really want to make these egg free, use a tbsp of room temperature cream cheese instead – the pot au chocolate is more of a cheesecake filling, but there's nothing wrong with that.
2 bars of good chocolate
3/4 cup of heavy (double) cream
¼ cup of milk
1 large organic fresh egg
1/2 cup oreo cookie crumbs
6 jelly worms
 
Break two bars of dark chocolate into pieces in a bowl
Pour the ¾ cup of heavy cream and ¼ cup of milk into a pan and heat until it's just about to boil
Tip the hot cream/milk over the chocolate and count to 20
Whisk the melting chocolate into the cream until the color is uniform
Crack in the egg and whisk again. You're not trying to whip up the mixture, just mix everything well
Pour the mixture into a jug, then from the jug into pots or shot glasses, filling them half way up. Top with a tsp or two of oreo crumbs, then another layer of chocolate. Chill for 2 hours in the fridge
Top with another layer or crumbs and decorate with worms. Take out of the fridge about 20 mins before you want to eat them so that the chocolate can soften a little
If You Can Make That You Can Make This