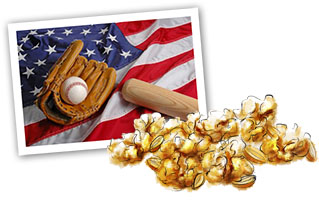 Last year my Mum and Dad were in town for 4th July celebrations and I was determined to show them some good ole American fun. To this end, tickets were purchased for a Staten Island Yankees home game, just a short ferry ride away, basking on the top deck as the Statue of Liberty glided by.
We stocked up on beer and hot dogs, waiting in line with dads and excited kids decked out to the nines in baseball caps and team shirts. The hot dog seller told us to "have a great night!" like you'd swear he really cared whether we did or not. We got change for a $20.
"We're not in Manhattan now," observed my Dad, who on a previous trip had been carded (yes, that's right, my Dad) at Yankee stadium, and sent back to his seat drinkless.
A guy in a suit walked out onto the field to sing the National Anthem, and then to lead us in a rousing rendition of "take me out to the ball game," with a furry mascot who pointed out the words on hand-written pieces of card. The towers and turrets of the city glittered away directly across the water, but they might as well have been a world away.
There was baseball, and then there was a Round The Bases Children's Sack Race. A dancing team of little girls trotted out on stage and bobbed about to Simply The Best, while various moms and dads held their water bottles and sang along. More baseball occurred. The home team was doing pretty well, we gathered, both from the score board and from a running commentary from Dad explaining exactly what and how this was occurring. Then a woman in our row won a free hot dog in an Ask The Fans pop quiz.
Night fell over the river. The bases were loaded, the Staten Island Yankees had everything to gain and noting to lose. A home run cinched the deal. Fireworks exploded over the stadium. We sailed back across the water eating crackerjacks, and all was right with the world.

"Crackerjacks"
It's best to make this on a day with fairly low humidity or the caramel will stay sticky on the corn – you can help matters along by baking for a little longer, especially in a fan oven, but ideally, you'd make this on a dry day.
I have taken to serving this in little paper bags stamped with my new star shaped ink stamper. To my mind, this is especially cute for 4th July celebrations.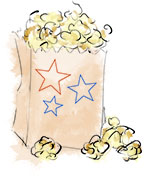 4 cups of popped popcorn (plain)
1 cup salted peanuts
1 cup dry roasted peanuts
1 cup brown sugar
½ cup dark corn syrup
(optional 1 tbsp molasses)
½ cup butter
1 tsp good quality vanilla extract
½ tsp salt
2 tsp baking soda
 
Put the nuts and popcorn into a roasting tin (I use a foil one to avoid washing up, if you're using a real roasting tin, you can clean it by washing it out with boiling water)
Put the sugar, syrup, and butter into a large pan and cook over a medium heat swirling the pan until the sugar has dissolved into a rich syrup
Let the mixture come to a simmer and simmer for 10 minutes until you have a deep caramel. If you have a candy thermometer it should read 250f, and if you put a drop into ice water it should form a hard ball (might take 15 mins)
Remove from the heat and add the salt, baking soda and vanilla. It will bubble up, but just swirl the pan and eventually it will calm down
Pour the caramel over the popcorn and nuts – be careful because it is extremely hot. Bake at 225f for 25 mins, then toss again and bake for another 20 mins
Tip the popcorn out onto wax paper or slip mat using a wooden spoon to make one even layer. Let the popcorn cool, then break into bite sized pieces
If You Can Make That You Can Make This
Switch up the nuts – try toasted pecans
Or all salted and no roasted peanuts
Add cashews
If you're a salted caramel fan, add a another 2 tsp of salt to the caramel mixture
add a handful of broken up pretzel sticks too
Or try this easy pumpkin spice popcorn
Or this truffle butter popcorn – perfect for a date night movie
This chocolate popcorn is probably my husband's favorite
And this white and dark chocolate popcorn takes decadence to a whole new level
This popcorn is inspired by the Union Square Cafe's bar nuts – rosemary, paprika, salt and sugar
And if you can make that, you can definitely make these bar nuts