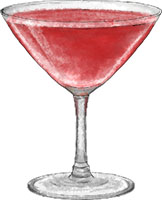 I'm pretty much suggesting a re-appropriation of the celebration of romantic love for the purposes of celebrating really great girlfriends. I just think we'd have more fun.
Very few men really appreciate the joys of fizzy wine, chocolates that come in heart shaped boxes, and wearing pink and red things.
So though I am suggesting pink drinks for lovers, in my heart I know, I mostly drink these with my friends.
French Martini (per glass)
There's debate over whether this really qualifies as a martini, in which case, I suppose it's just a "French", which somehow sounds a lot dirtier. A rose by any other name. Eitherway, it's got it all – pinkness, raspberries, and a martini glass. What's not to love?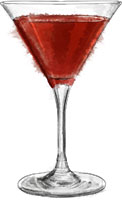 1 measure vodka
½ measure Chambord
½ measure pineapple juice
5 raspberries (optional)
 
Muddle 4 of the raspberries in a shaker, then add ice and pour in the vodka, Chambord and juice.
Shake to combine, then strain into a martini glass
Garnish with the remaining raspberry
Kir Royal (per glass)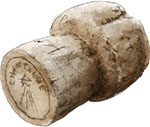 1 tbsp crème de cassis (or Chambord if that's what you have in)
Champagne (or prosecco)
 
Measure the crème de cassis into a flute
Top up with bubbles
Cosmopolitan (per glass)
It's a classic. Sure, it's possibly a little overexposed, but since when did being a little over exposed become a problem on Valentines?
1 measure cranberry juice
1 measure vodka
½ measure Cointreau
Juice of ½ a lime
 
Shake over ice, then strain into a martini glass
Serve with a lime wedge
Orange Pomitini (per glass)
1 measure pomegranate juice (you can juice a pomegranate just like an orange, though the juice stains if spattered, so I do it in the sink and wear an apron.)
1 measure vodka
1 measure blood orange juice
1 tsp pomegranate seeds
 
Juice the pomegranate and pour into a shaker with the vodka and orange juice
Add ice and shake to chill. Strain into a martini glass
Garnish with pomegranate seeds
If You Can Make That You Can Make This